July Climate Briefing: El Niño Still Not Fully Developed
From the July climate briefing, given by IRI's Chief Forecaster Tony Barnston:
Tony Barnston provides an overview of the briefing
Changes from last month's briefing
The latest model runs have reduced the chance of an El Niño developing by late summer in the Northern Hemisphere. The probability of an El Niño forming during the current July-September season is slightly above 50%, down from about 65% a month ago.
The reason for this reduction is that the above-normal sea surface temperature (SST) pattern in the tropical Pacific has weakened slightly since June. "About a month ago, the SST anomalies both near the International Date Line and off the coast of South America were stronger," explained IRI Chief Forecaster Tony Barnston. Last week, the Niño3.4 sea surface temperature anomaly was +0.3ºC, down from +0.4ºC in early June.
While the current +0.3ºC anomaly indicates neutral ENSO conditions, model forecasts still predict a 75% chance of an El Niño developing by late autumn in the Northern Hemisphere. These probabilities are a slight decrease from IRI's June forecast and slightly lower than the joint NOAA Climate Prediction Center/IRI forecast issued on July 10.
Could an El Niño still develop?
Despite the stalling sea surface temperature pattern in the tropical Pacific, several of the best climate models still expect a weak to moderate El Niño to develop later in 2014. "We still have an accumulation of positive heat content in the central and eastern tropical Pacific, which should eventually lead to more warming at the surface," Barnston explained during the briefing.
The atmospheric pattern over the tropical Pacific, however, continues to resemble ENSO-neutral conditions. Since late spring, westerly wind bursts near Indonesia – which help push the warm waters of the western Pacific eastward toward South America – have become weak to non-existent. Until the atmosphere responds, an El Niño will be slow to develop over the coming months. Barnston therefore believes a weak El Niño is just slightly more likely than a moderate one.
Effects of El Niño on global seasonal forecasts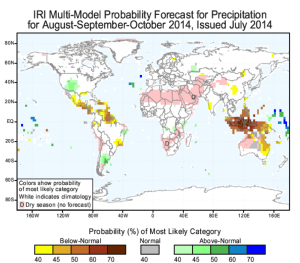 Each month, IRI issues seasonal climate forecasts for the entire globe. These forecasts take into account the latest ENSO projections and indicate which areas are more likely to see above or below normal temperatures and rainfall. 
Although an El Niño has yet to develop, the climate impacts are still expected to resemble those of a weak to moderate El Niño. For the upcoming August-October period (image right), the forecast continues to show a strong likelihood of drier than normal conditions over Indonesia, and a 40% chance of below-average rainfall over western India. Wetter than average conditions are still expected over southeastern South America later this year, while northern South America shows a moderate tilt of the odds toward below-normal rainfall. 
Scientists should know more each month about the chances for El Niño, its potential strength, and the climate impacts. Sign up here to get notified when the next forecast is issued, and in the meantime, check out #IRIforecast or use #ENSOQandA on Twitter to ask your El Niño questions.