We're building on decades of experience in climate-risk management and climate services by developing a network of Climate Services Academies for decision makers at all levels.
Overview
In order for countries to adapt to climate and achieve their Sustainable Development Goals (SDGs), decision makers–from government officials to farmers–require increased capacity to understand the risks posed by climate variability and change and how to mitigate those risks effectively.
This requires a coordinated approach to the creation of climate services that produces reliable climate information and ensures it aligns with the practical needs of decision makers. A functioning climate service must engage both the producers and the users of climate information. The producers of climate information must understand the decision-making needs of their clients or users, who work in agriculture, energy, infrastructure, public health and other at-risk sectors. This should happen through a collaborative process spanning the generation, translation, transfer and use of climate information (see graphic at the bottom of this page). And those clients must know how to apply such information for better outcomes.
Climate adaptation has risen to the top of the development agenda, creating a strong demand for comprehensive, high-quality education and training materials and curricula to facilitate building and operating climate services around the world. The global COVID pandemic caused many training events to adapt by shifting online, often with positive outcomes. This new reality offers us the potential to augment post-COVID learning environments through remote support of local trainings and hybrid formats.
The IRI Climate Services Academy Approach
A major challenge in developing effective climate services is the disconnect that exists between providers (international and regional climate centers, national meteorological and hydrological services) and sectoral users (practitioners, policy makers and other experts). Other common development issues that have constrained capacity building include duplication of efforts, lack of coordination between initiatives, and difficulty sustaining project-based activities.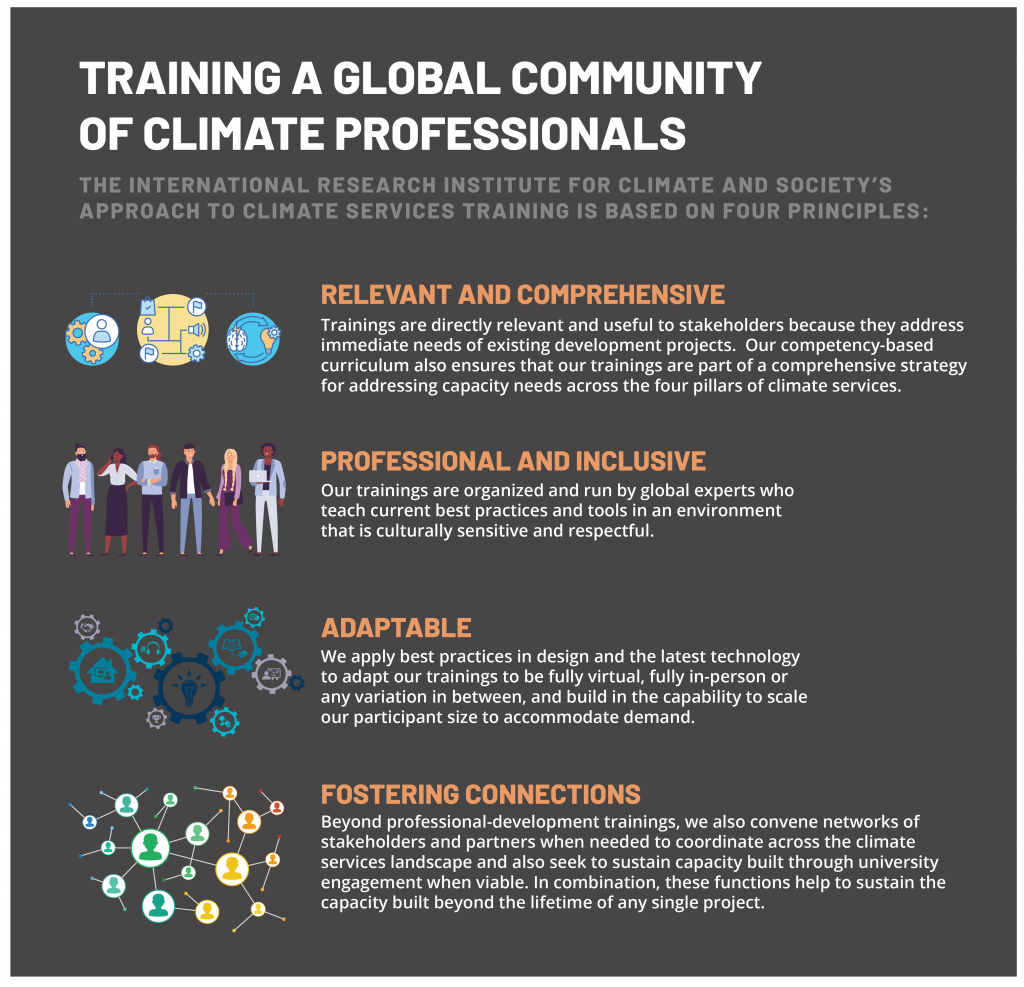 The coordinated approach offered by IRI's Climate Services Academies addresses each of these constraints by building relationships between producers and users of climate information, enabling users of information to be smart consumers, able to understand their needs and demand it of producers; gives beneficiaries a voice in designing capacity building programs that lead to comprehensive skills and qualified hydro-met agencies; reduces duplicative efforts and allows for identifying gaps in training.
To address the need for virtual engagement during the COVID pandemic, IRI's Climate Service Academies are now delivering trainings remotely while maintaining high standards of quality and effectiveness.
Curricula
Our approach has been to first develop a Global Academy and curriculum, which serves as a centralized hub of training programs for the national and regional level academies to draw on.
The Global Academy's comprehensive curriculum is based on practical competencies and focuses on building capacity strategically across the four pillars of climate services and relevant sectors.
We're designing all of our trainings and materials in accordance with evidence-based educational design principles and the prevailing heuristics of relevant fields of practice. We're prioritizing inclusion, accessibility and climate justice by developing digital and analog modalities for each training and any related materials as needed. We're also localizing each training, by adapting the learning experience, objectives, and materials for respective sociocultural and political contexts and language requirements.
Our Training Programs
Search our training map for topics and locations of IRI's hundreds of past training events in over 60 countries. Topics include but are not limited to:
Training on Climate Basics: an introduction to climate, climate services, and climate justice for partners and stakeholders working to build and strengthen climate services across the four pillars.

Introduction to Climate
Global Climate
Regional Mean Climate
Climate Data
Climate Variability
Climate Change
Climate Predictions and Projections
Climate Services
Climate Justice

Training National Hydro-Meteorological Services in the generation and provision of climate forecasts across timescales in alignment with WMO competencies.
Strengthening availability, tailoring and communication of climate information through the ENACTS approach, including the IRI Data Library and Maprooms for both providers and users of climate services.
Training on Index Insurance and other Financial Instruments.
Training on Translation, Communication, and Use of Climate Services.
Looking Ahead
After launching the Global Climate Services Academy in 2020, IRI is now exploring opportunities to engage with a broad range of interested organizations requesting this type of curriculum and training, including international humanitarian organizations such as the World Food Programme, university networks such as the Least Developed Countries Universities Consortium on Climate Change, and grassroots community-based organizations.
Support
Initial funding support for IRI Climate Services Academies comes from ACToday, the first Columbia World Project, and the SHMJRLEY Fund.