Virtual Climate Services Training for Professionals in Bangladesh
In the pre-pandemic era, much of the work of expanding the capacity of government agencies, meteorological departments, and local partners to combat hunger by increasing climate knowledge carried out by the Adapting Agriculture to Climate Today, for Tomorrow (ACToday) Columbia World Project took place in-person. Staff from the International Research Institute for Climate and Society (IRI) would travel to consult with and train decision makers and other stakeholders.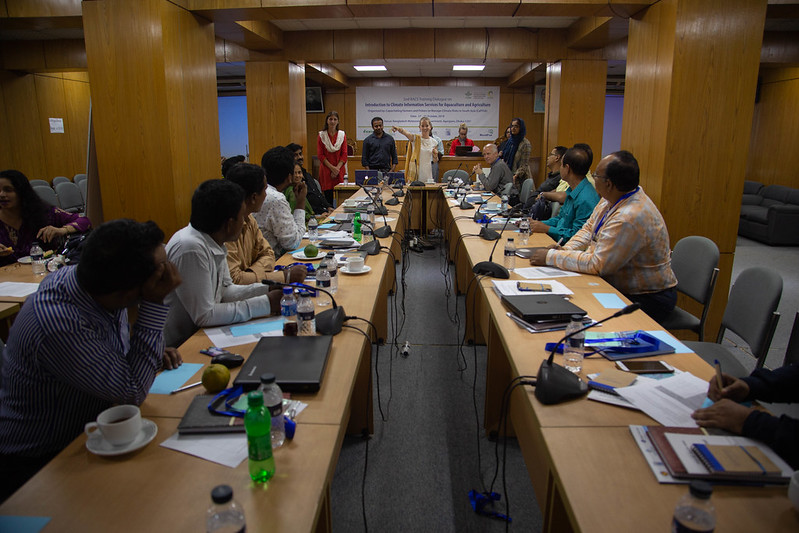 When COVID-19 halted most international travel, the ACToday teams quickly pivoted, adapting their trainings for a virtual environment.
"We knew we had to act fast, to keep up the momentum, the trust, the interdisciplinary networks, and the knowledge building we had diligently built with our partners," said Mélody Braun, the country lead for ACToday Bangladesh.
In both 2018 and 2019, Braun and her team conducted an intensive, two-week training in Dhaka, Bangladesh. The one for 2020 had to occur online. Transitioning from in-person to all-online interactions was not easy, she said, but the shift was made possible by years of foundational relationship-building with the Bangladesh Meteorological Department (BMD), the International Centre for Climate Change and Development (ICCCAD), the International Maize and Wheat Improvement Center (CIMMYT), and other key partners in the country. These partners are also the backbone of the Bangladesh Academy for Climate Services (BACS), which serves as a platform and interdisciplinary network for climate information stakeholders, including users and providers, with the goal of improving the quality and dissemination of that information.
The Bangladesh Academy for Climate Services has proven so successful that several other ACToday countries are using it as a model to build and sustain their own climate information networks.
For their most recent training the ACToday partners in Bangladesh organized a three-part, online series training both novices and experts on the use of index insurance as an adaptation strategy for climate risks (see sidebar). The first installment drew 43 participants. The second and third components targeted more advanced practitioners already involved in active insurance projects and had 13 participants each (attendance to previous training sessions was a prerequisite).
"I am currently leading several risk management projects and this course not only helped me to understand insurance but also think about what solid compensation means for people at risk," said Kazi Amdadul Hoque of Friendship Bangladesh after the last training session. "Today is the beginning, rather than the end of the program," he added.
Indeed, a consistent comment from participants was that while the information in the trainings was immensely valuable, the inter-agency and inter-disciplinary conversations surrounding these topics inspired by the trainings were critical to continuing the work of transforming Bangladesh's climate-response strategy and planning.
"In this training, you have been able to bring all of us in the same virtual room and we have started discussing the problems and risks, and this kind of conversation is building our capacity and leading us to a point where we can jointly decide whether we will go for insurance or not," said Ashraful Haque, from Forewarn Bangladesh. Discussion was so active, now we need to find a mechanism to keep these types of platforms active and keep this discussion going."
Braun points out that while the enthusiasm for these trainings has been really encouraging, sustaining these conversations will require coordination from local stakeholders and partners. Future discussions are already being planned.