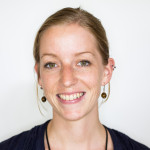 Mélody Braun
Senior Staff Associate
Financial Instruments Sector Team
Email: ude.aibmuloc.iri

null

@nuarbm
Address:123 Monell Building
61 Route 9W
Palisades, NY 10964
Background
Mélody Braun graduated with a double master's degree in engineering and management of the environment and sustainable development from both the universities of Troyes (France) and Sherbrooke (Canada) in 2010. She then graduated from Paris 13 university with a master's degree in humanitarian action and NGOs with a specialization in management of extreme environments, in 2011. She also holds a bachelor's degree in Earth science.
She concentrated her studies on climate impacts, combining both mitigation strategies in developed countries, through industrial ecology, eco-conception, climate action plans in municipalities, and adaptation strategies in developing countries, from the development of adaptation policies at country level to the implementation in the field at community level.
Role at the IRI
Mélody Braun is a Senior Staff Associate at the International Research Institute for Climate and Society, with a multidisciplinary background in Earth science, sustainable development and adaptation to climate change. Her work focuses on the design/support of strategies to improve integration of climate information into decision making processes to increase preparedness, response and resilience to climate impacts. She is particularly interested in systemic and transdisciplinary approaches to bridge the gap between decision makers, climate scientists and policy makers.
She is the Bangladesh country lead for the Columbia University/IRI Adapting Agriculture to Climate Today for Tomorrow (ACToday), aiming at developing climate services and integrating climate information into policy and practice to contribute to ending hunger, achieving food security and improved nutrition, and promoting sustainable agriculture (SDG2). Through ACToday Bangladesh, Mélody has been supporting the jointly founded Bangladesh Academy for Climate Services (BACS), a collaborative convening and capacity building platform on climate services, and the development of associated user-centered capacity building trainings. She was co-PI on the NASA Rapid Response and Novel Research in Earth Sciences (RRNES) project on Connecting Earth Observations to Decision Makers for Preparedness Actions (COMPAS), focused on integration of Earth observation data into decision making processes in the response to the Rohingya crisis. Finally, she supports the activities of the IRI Financial Instrument Sector team in Asia and francophone Africa, including investigation of climate impacts on agriculture, design and validation of index insurance products, capacity building of local and international partners.
Prior to working for IRI, she led a project of the CGIAR Research Program on Climate Change Agriculture and Food Security (CCAFS) in Bangladesh for 3 years and had short previous research and work experiences in Togo, Cambodia and Senegal.