Advanced Training for Latin American Forecasters
La version en español esta disponible aquí.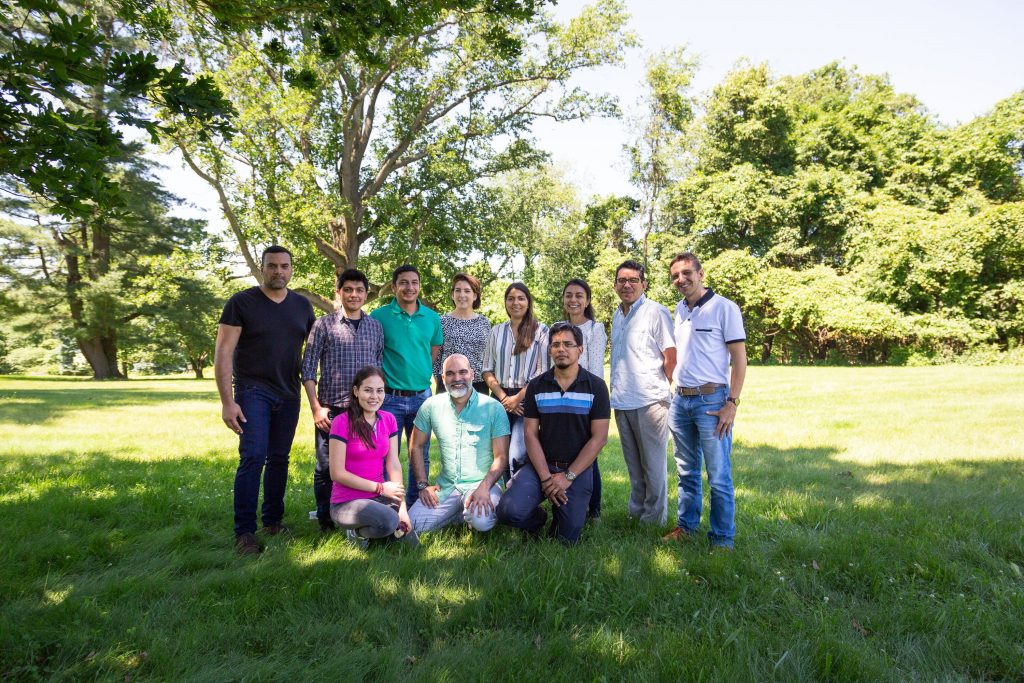 One of the key objectives of the Adapting Agriculture to Climate Today, for Tomorrow (ACToday) project is to use trainings to build up the technical skills and capacity of staff working within national and regional climate institutions in the project's six focus countries.
One such training took place this past summer. Seven climate scientists and modelers from four Latin American countries spent a week at the International Research Institute for Climate and Society in New York to learn the state-of-the-art model calibration approach, data analysis and verification methods that comprise the NextGen forecast system being implemented by ACToday. The training was also supported by Columbia University's President's Global Innovation Fund and the Columbia Global Center in Santiago, Chile.
NextGen is much more than just an advanced technical way of combining models or developing forecasts, said Ángel Muñoz, who leads ACToday's work in Colombia and Guatemala.
"It's designed with users and decision makers in mind, and it taps into local technical expertise and local climate data," he said. "Because we work so closely with the national meteorological services to develop NextGen, they become co-owners and are invested in its success."
The improved seasonal climate forecasts produced by NextGen are tailored to be especially useful to decision making and planning in agriculture, energy and other sectors, said José Franklyn Ruiz, from Colombia's Instituto de Hidrología, Meteorología y Estudios Ambientales (IDEAM), which launched NextGen earlier this past month.
Another training participant, Rosario Gómez, who works in the country's Instituto Nacional de Sismología, Vulcanología, Meteorología e Hidrología (INSIVUMEH), is also excited about giving farmers and other end users better information.
"It's the poorest people or those with fewest resources who are most affected by climate risks," she said. Gómez has worked closely with ACToday to recently launch five new mesas técnicas agroclimáticas or agroclimatic roundtables across the country. Guatemala launched NextGen last week (NBC story).
For Diego Campos, from Chile's Dirección Meteorológica (DMC), the weeklong training offered an important opportunity to spend time among colleagues from other regions in Latin America. "Now we're a network, and I know I can count on them and they can count on me to work through difficulties we might come across when developing new forecasts."
Muñoz later visited Chile to follow up on the training and meet with Campos and his colleagues to discuss NextGen implementation at the DMC.