Send Us El Niño Headlines!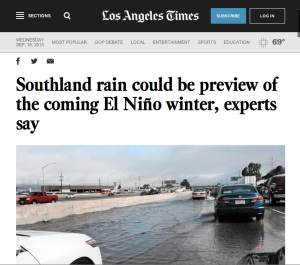 Here at the IRI, we're constantly thinking about El Niño: its prediction, its evolution, its impacts, etc. We also keep tabs on the communication — and miscommunication — of El Niño, but we can't be everywhere (and neither can Tony Barnston). We need your help!
We're inviting you to send snapshots of headlines related to El Niño that you come across in newspapers or news sites from around the world. Take a picture or grab a screenshot and tag it #ElNinoHeadline on Twitter. Don't use social media? No problem! Email your picture to ude.aibmuloc.irinull@senildaehoninle with the same hashtag in the subject line, and we'll post it for you. We'll collate the submissions on Storify, and invite the broader community interested to engage on this issue.