Health and Climate Colloquium Report
Earlier this year, the International Research Institute for Climate and Society and the Mailman School of Public Health, both of Columbia University, hosted the Health and Climate Colloquium 2016. The purpose of the Colloquium was to help build a global community of health practitioners and policymakers that can use climate information as a means to support health delivery and improved outcomes in the context of a changing climate.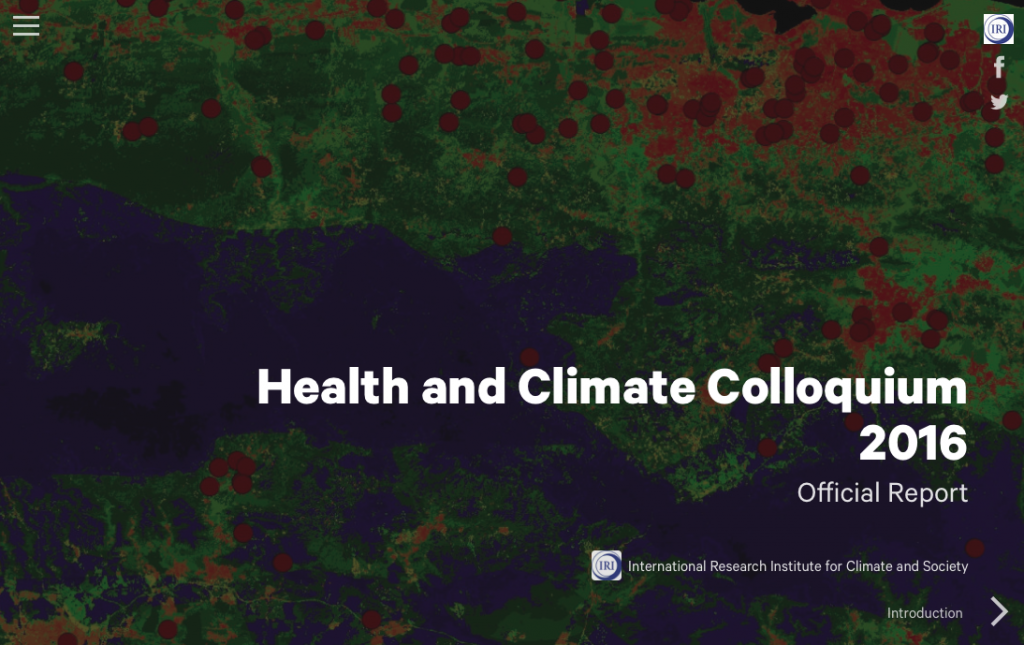 Climate services for the health sector are increasingly discussed as a possible contribution to improving climate-sensitive health outcomes and as a means to support climate change adaptation. However, unlike sectors such as agriculture or water management, climate information is rarely used in health decision making. An important limitation in reducing climate-related risks to health is that few health policy makers or practitioners have access to relevant and actionable climate information services. Little evidence exists in the literature relating the benefits of climate information services to the health sector.
The meeting was sponsored by the World Health Organization, includingWHO – Special Programme for Research and Training in Tropical Diseases, the World Meteorological Organization, the Global Framework for Climate Services, the World Bank Group, the Nordic Development Fund, the International Development Research Centre, the CGIAR research programs on Climate Change, Agriculture and Food Security and Agriculture for Nutrition and Health, and the Earth Institute. It brought together experts from governments, humanitarian agencies, development organizations, U.N. agencies, research centers and universities.
See the full, multimedia report here, which includes more video interviews as well as talk summaries and full video of lectures and panels. More details from the event archived on this page.