Empowering National Meteorological Services
At a launch event in May of 2021, Ethiopia's National Meteorological Agency unveiled a national climate plan to ensure that, for years to come, the country will have the best climate information available to guide it as it adapts to the realities of climate change. ACToday had been working with the meteorological agency and other Ethiopian government agencies since 2017 to finalize the plan, officially known as a national framework for climate services.
An important part of ACToday's goal of increasing food security has been to help develop new climate services that lead to better agricultural decision making. National frameworks for climate services serve this strategy in two important ways – by getting national meteorological services the recognition and support they need from national budgets and international donors, and by placing climate services at the center of adaptation efforts.
"The technical support, knowledge-sharing and collaboration provided by IRI through the ACToday project has enabled us to develop a robust national framework for climate services," said Fetene Teshome, the director-general of Ethiopia's National Meteorological Agency. "This will serve as a strong foundation for our country's efforts to adapt and prosper in a varying and changing climate."
"We understood from the start that any long lasting impacts we would have on reducing climate threats to food security in these countries depended on empowering and supporting the national meteorological services," said ACToday's Walter Baethgen. "Akin to the U.S. National Oceanic and Atmospheric Administration, they are government institutions mandated to understand and communicate to their users what the climate is doing now, what it did in the past and what it is likely to do over the coming days, weeks, years and decades."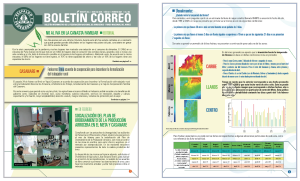 The close partnerships between ACToday and the national meteorological services in each of the six countries where ACToday is active have led to significant leaps forward in capacity, capabilities and forecasting, such as:
Adding millions of new data points to the countries' historical climate records;
Using these data points to build powerful maps and platforms targeted to those working in agricultural ministries, national development and humanitarian agencies;
Deploying advanced forecasting systems that have led to significant upgrades to countries' climate seasonal prediction capabilities, and to the development of experimental short-term forecasts that are of keen interest to food security agencies.
All of this work was done collaboratively with the national meteorological services, said Baethgen. ACToday provides whatever expertise they need as well as resources to support training courses and skills-building events. "The data we help generate belongs to the country, the platforms we help build are served locally," he said.
These investments have helped bolster the reputation and credibility of meteorological agencies in the six ACToday countries among other parts of government.
"ACToday's biggest impact is fostering direct and ongoing collaborations among meteorological agencies and other sectors of government, including agriculture, insurance and disaster response," said Baethgen. "These communities now understand each other in ways they didn't four years ago. As a result, we're seeing the creation of many new useful tools and services that directly support decision making to help achieve food security."