An Inside Look at the Making of the Recent IPCC Report
The Intergovernmental Panel on Climate Change (IPCC) released the Working Group I contribution to the Sixth Assessment Report (AR6) on August 9th, 2021. This report summarizes the findings of more than 14,000 peer-reviewed studies about the physical science basis for climate change. The conclusions are sobering. The evidence is unequivocal that humans have warmed the planet, causing widespread and rapid changes, the authors write, warning that the present state of the climate system is unprecedented going back thousands of years.
IRI climate scientist Daniel Ruiz Carrascal was one of thousands of researchers who contributed to the report. Ruiz was one of the lead authors for Chapter 12 of the report, which focused on "climate change information for regional impact and for risk assessment." He also contributed to Chapter 11—about extreme weather events—and helped write IPCC's factsheets on Central and South America and mountain ecosystems. Ruiz's research focuses on developing climate adaptation strategies for the fragile ecosystems across the Tropics.
We asked Ruiz to share his experiences working on this globally-influential report, as well as his thoughts about how he hopes it will affect research and action in the future.
The final AR6 report for Working Group I is massive! How long have you and others been working on this? What has that process been like?
The full Working Group I report, which includes a summary for policy makers, a technical summary and thirteen chapters (including the atlas), is 3,085 pages long! Just the chapter I worked on, Chapter 12, is 227 pages long. It took us more than three years to write it. By "us" I mean three coordinating lead authors, twelve lead authors, eighty-five contributing authors, three review editors, and two early-career scientists. We participated in one in-person expert meeting, three in-person lead author meetings, two virtual (online) author meetings, and multiple online internal coordination meetings.
Our multiple drafts of the chapter address more than 78,000 review comments. It was a privilege to join efforts with all the scientists involved. It was challenging to keep the report moving forward under the exceptional circumstances of the last 18 months under COVID-19. In a recent tweet, I mentioned that in our chapter we behaved like a family: there was a lot of respect, appreciation, acceptance, kindness, sacrifices, support, and joy. And we argued too. That's how I feel the process was. It feels great to look back and see what we all managed to do.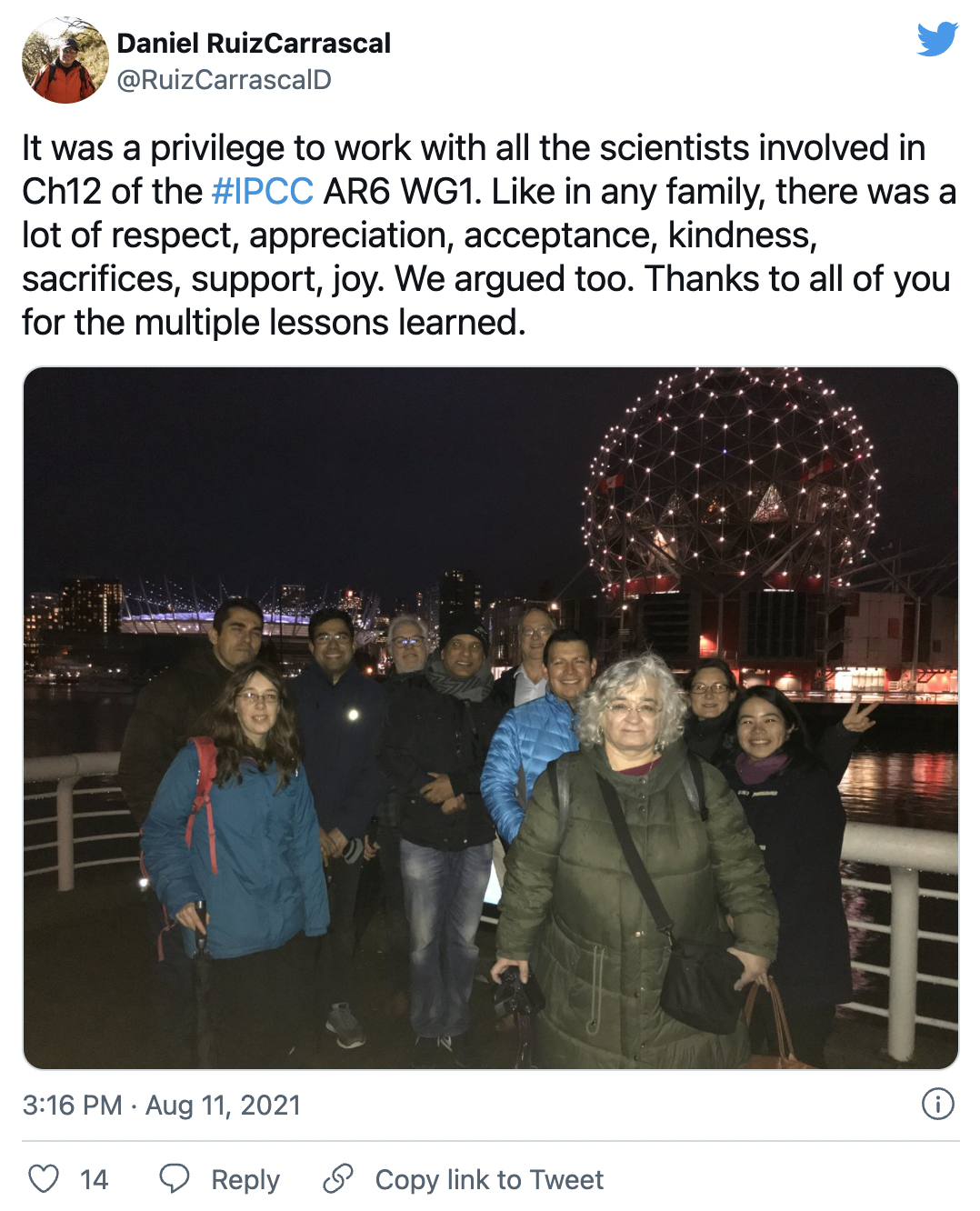 The chapter you led focuses on the geophysical aspects of climate variability risk assessment on a regional scale. What's the significance of this type of analysis and how is it different compared to previous reports?
One third of AR6 is devoted to regional information. This is an important change in the history of IPCC assessments. Also, in previous reports there was a lack of continuity between the assessments carried out by Working Groups (WGs) I and II. We found it necessary to come up with a chapter that could serve as a bridge between the two groups. We structured our own chapter in such a way that the information on relevant changes in the climate system produced by global and regional chapters of the WGI assessment, could be easily incorporated into the actual risk assessment in WGII for the different sectors of our society and for the multiple ecosystems we have on our planet. In other words, we provided one of the elements of the risk assessment framework, but let our colleagues in WGII lead the evaluation of the actual potential impacts, the related exposures, vulnerabilities, and susceptibilities, as well as the assets or valuables being affected. 
In previous assessments there was a bias toward an analysis of the potential threats or hazards in the overall scheme of risk assessments. This ignores how changes in climate variables could have inconsequential outcomes in different sectors, or bring in positive or negative impacts, or have a mixture of them. Hence, we proposed a set of climatic conditions that directly affect elements of our society or ecosystems, and we called them climatic impact-drivers (CIDs). We classified the key CIDs into different types and categories, and identified their critical thresholds for an ample spectrum of climate-sensitive sectors. We synthetized all of the CIDs to provide a global perspective and linked them to global indicators, and assessed the use of the regional climate change information in climate services. Our goal with this new chapter is to better inform decision-making processes at the scale that many (but not all) decisions are made.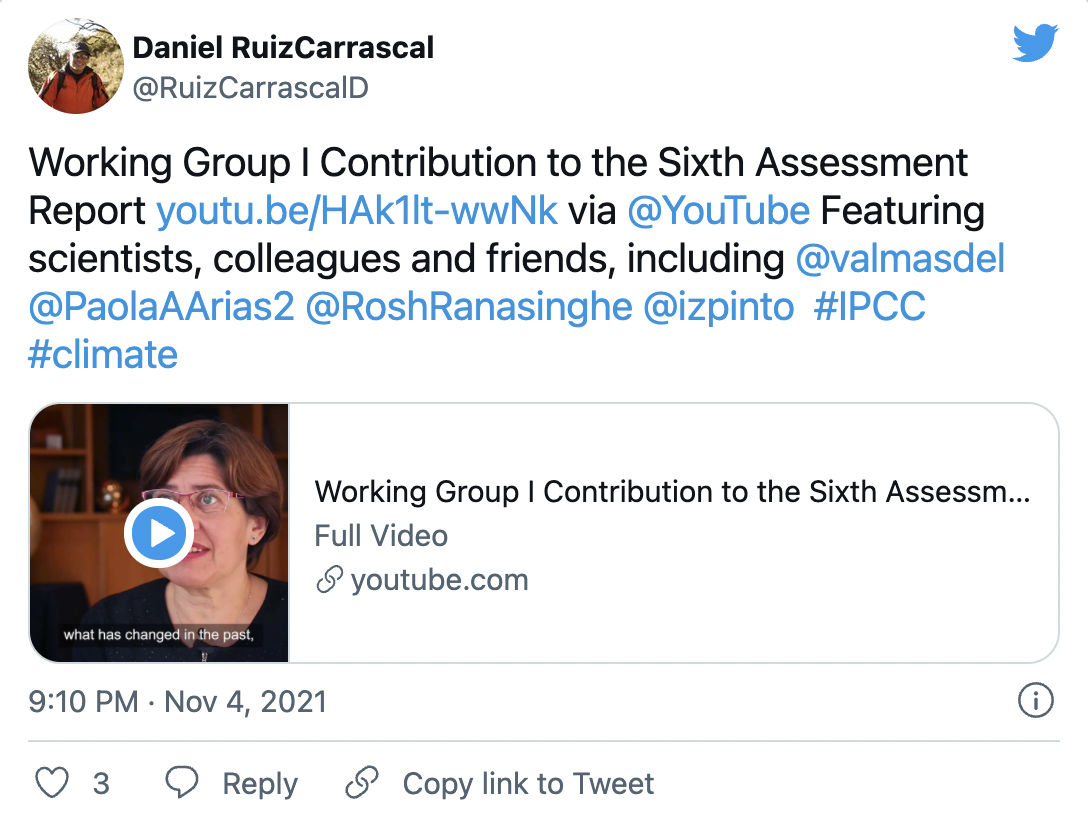 What are the key findings?
As you know, the assessment report itself has a long list of key messages. What I want readers to take away is that the recent changes in our climate system are unprecedented in hundreds to thousands of years, and that those changes are undoubtedly driven by human activities. Additionally, climate change is not restricted to specific geographic domains and is already affecting every inhabited region across the globe. It will be extremely difficult to limit global warming below the 1.5ºC international commitment if we do not curb our emissions of greenhouse gases drastically, and that the only way we can do it is by pursuing immediate, strong, rapid, sustained, and large-scale reductions. 
It is clear that even if we reduce our emissions to zero right now, the planet will continue warming for decades to come due to its thermal inertia. The warming of the future will be a sum of past, present and future emissions, and that things could get significantly worse because the higher the cumulative CO2 emissions get, the smaller the proportion of CO2 emissions taken up by carbon sinks would be. I would also highlight that the drivers of impacts on multiple climate-sensitive sectors are projected to change in all the corners of the world. Lastly, I would stress that every metric unit of CO2 matters, and that every additional increment of global warming represents a significant increase in the frequency and intensity of climate extremes.
"It will be extremely difficult to limit global warming below the 1.5ºC international commitment if we do not curb our emissions of greenhouse gases drastically, and that the only way we can do it is by pursuing immediate, strong, rapid, sustained, and large-scale reductions." 
The evidence presented in this report is pretty frightening. Are you optimistic about the future of life on our planet? If so, our readers would definitely appreciate a climate scientist's perspective on staying hopeful!
Yes, I am optimistic. Life on our planet has its own dynamism. It has managed to overcome many difficulties, challenges, threats, changing circumstances, and has recovered after multiple critical periods. This has happened several times before and will continue to do so. Our own society is highly resilient to many catastrophes too. I called my father after the release of the full IPCC assessment report and asked him this same question, and he replied: "I am optimistic. We will solve the problem. We will figure it out." And I cannot agree more.
In multiple articles, texts, and documentaries, we read (and hear) that this global environmental change is demanding from us abrupt changes in mentality, policies, and economic systems. We need to change course now. We need to deeply transform the way we live. We need to find a better way of interacting with our environment, a sustainable way of satisfying our energy demand, perhaps a different food source or (certainly) a different way of producing it, a much more efficient way of moving from point A to point B (if we really need to move). We need a different society, a better society.
And everything I say here is happening, and is becoming possible and tangible nowadays because global citizens are increasingly concerned. Citizens and our world leaders have been significantly impacted by recent climate extreme events, so our increasingly-destabilizing climate system is already knocking on every single door. The change is happening now, and I mean the change in our society.
While this report is meant only to assess the state of climate change research—the IPCC plans to publish recommendations in 2022—there's so much to take away from it. How do you hope the information presented in these 3000+ pages is used in the coming months and years?
Never before have we had so much evidence of the ongoing process, so much information at hand, so much urgency to make better climate-informed decisions. The results of the IPCC WGI AR6 should be taken, first, as a wake-up call to all of us about our consumption-driven economic model. Secondly, as a call to act immediately, on the necessary reduction of greenhouse gas emissions, the control of aerosol pollution, and the urgency to stop deforestation. And finally, as an opportunity to propose, design and materialize more sustainable development options. We need to transform ourselves into citizens of a better society. The report is putting on the table information that could (and should) be considered in environmental education and awareness campaigns, syllabus of academic and training programs at all levels, cultural initiatives, biodiversity conservation efforts, energy transition policy options, environmental management plans, disaster prevention and preparedness plans, and much more. However, the first thing we need to do is to make sure that everything we have in our report reaches us all. 
At an IPCC regional outreach meeting I attended a few weeks ago, one of the scientists noted that AR6 has had five times the coverage of any other report. That is good. But it is the beginning of a long process to try to deliver all the key messages to all the potential audiences. The authors are all participating in outreach events at the regional, sub-regional and local levels, which are being attended by numerous citizens, authorities, practitioners and decision makers. And almost all the people involved in this sixth cycle participated, either in person or virtually, in the twenty-sixth session of the Conference of the Parties to the Climate Change Convention (COP26)
We are starting to see that everything is heading in the right direction. We are starting to believe in the new way of doing politics in the world, guided by multiple leaders, many of them among the youth –they are now leading the way. They are doing an excellent job in translating the messages of the assessment report to key members within our communities.