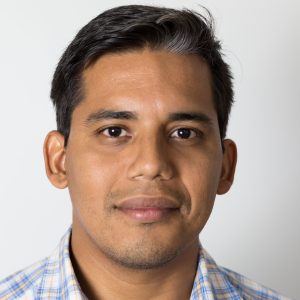 Xandre Chourio
Senior Staff Associate, Data Library
Email: ude.aibmuloc.iri

null

@oiruohcx
Address:101A Monell
61 Route 9W
Palisades, New York 10964

Short Bio
Xandre Chourio is a Senior Staff Associate I , member of the IRI Data Library team. At the IRI, he assists in research activities for a variety of projects aiming at developing climate services around the World: "Adapting Agriculture to Climate Today, for Tomorrow" (ACToday, CWP), weather-type based cross-timescale diagnostics (NOAA), vector-borne diseases (NOAA), etc, also engage with user communities of Latin American ACToday component countries, through collaborative work or training workshops.
Background
Chourio received his degree in Computer Science from Universidad del Zulia (Venezuela) in 2010. Before arriving at the IRI in 2018, he was head of Computational Sciences (Research & Applications Division) at the Center for Scientific Modeling (CMC) of Universidad del Zulia, and served as Associate Professor in the Department of Computer Science of that university.
Also he was the lead scientist of the Latin American Observatory (www.ole2.org) Datoteca, an incarnation of the International Research institute for Climate and Society's Data Library. The Observatory offered him the opportunity to work directly with decision- makers on different projects for the Inter American Development Bank (IADB), ministries of environment in Latin America and the national meteorological services of Ecuador, Peru, Colombia, Paraguay, Panama, and Venezuela.
Research interests
Climate data analysis
Semantic technology
Numerical weather prediction
High performance computing
Cloud computing
Computational resources for climate-smart decisions
Databases
Role at the IRI
Since 2018, Chourio has been a member of the IRI Data Library, which disseminates science-based climate information to its user community.
Publications