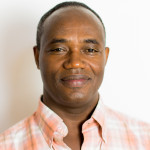 Tufa Dinku
Research Scientist
Climate and Environmental Monitoring
Phone: +1 (845) 680-4525
Email: ude.aibmuloc.iri

null

@afut
Address:102 Monell
Background
Tufa Dinku has more than twenty years of operational and research experience in the field of climate science and its applications. This includes twelve years of operational meteorology at the National Meteorology Agency of Ethiopia and eight years of research and applications at the IRI. He received a BS in physics from Addis Ababa University, a post-graduate diploma in meteorology from the Indian Institute of Tropical Meteorology, and MS and PhD degrees in civil engineering/hydrometeorology from the University of Connecticut in the United States.
Research Interests
Dinku's main research interest is remote sensing of climate variables such as precipitation and temperature. His current research includes identifying global climate data sets (satellite proxies, gridded station data, climate mode reanalysis), assessing their qualities, combining data from different sources, and adapting these products for specific applications. He has several publications evaluating the quality of different data sources. However, his research work is not limited to climate science. He also has publications and other documents with the main focus on assessing and improving climate services and the use of climate information in development practices.
Role at the IRI
Dinku's main focus over the last five years has been improving the availability, access, and use of climate information in Africa. To this end, he has designed and implemented projects at national and regional levels, particularly in Africa.