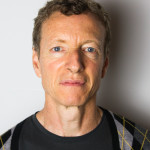 Andrew W. Robertson
Senior Research Scientist
Head of Climate Group
Phone: +1 (845) 680-4491
Email: ude.aibmuloc.iri

null

@rwa
Address:Monell 230
61 Route 9W
Palisades, NY 10964
Background
After graduating from the University of Leeds, UK, with a BS in mathematics and geography, Andrew Robertson received an MS from Imperial College, London in atmospheric physics and dynamics, and a PhD in atmospheric dynamics from the University of Reading in 1984, under the supervision of Brian Hoskins. He held postdoctoral and research positions at the Universities of Paris, Munich, and UCLA prior to joining the IRI in 2001.
Research Interests
Robertson has authored over 90 peer-reviewed publications, a full list of which can be found here: http://iri.columbia.edu/~awr/pubs.html.  His research interests include:
regional climate variability, predictability and change
probabilistic daily rainfall modeling
predictability of weather-within-climate
climate downscaling methodologies
tailoring of climate information for use in conjunction with sectoral models for climate adaptation and risk management
Role at the IRI
Robertson currently leads the IRI Climate Group.   He also teaches in the Master of Arts Program in Climate and Society in the Department of Earth & Environmental Sciences.