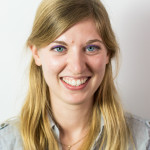 Sari Blakeley
Senior Research Staff Assistant
Financial Instruments
Email: ude.aibmuloc.iri

null

@yelekalb
Background
Sari Blakeley graduated from Columbia University with a master's degree in climate and society in 2012. Her studies focused on the technical viability of index insurance and expanded her understanding of climate change and its impacts on human populations and their environments. In 2010, she earned a BA in international studies, economics, and French at Michigan State University, then taught English in a French middle school for the academic year 2010-2011.
Research Interests
Blakeley continues to be interested in the economic viability of index insurance projects and the impact of climate change and climate variability on such projects.
Role at the IRI
Blakeley works as a senior research staff assistant on the Financial Instruments Sector Team at the IRI. She has been instrumental in the coordination and development of capacity building materials for climate risk and index insurance, as well as working closely with software to develop an online module for training on the evolution of index insurance contract designs. She has traveled to Ethiopia and Senegal to work with project partners on the implementation of index insurance projects and has conducted economic games for assessing risk preferences of potential clients.