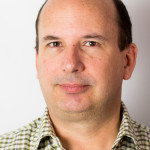 Jeffrey Turmelle
Lead Systems and Network Analyst/Programmer
IT Manager
Phone: (845) 652-3461 (mobile)

Email: ude.aibmuloc.iri

null

@tffej
Address:229 Monell Building
61 Route 9W
Palisades, New York 10964
Since 2011, Jeffrey Turmelle has managed the IT department for the IRI. His duties include oversight of the computer desktop support, maintenance of the server infrastructure and all services.
Background
Jeff received his BS in computer science from the University of Lowell, MA, and a MS in technology management from Columbia University.
Jeff has a background in software development, primarily image processing and computer graphics, but is primarily a Linux Systems Administrator.
Interests
In addition to keeping the servers and services running, Jeff is interested in collaborative technologies and is continually looking for ways to improve the communication and sharing of information at the IRI.