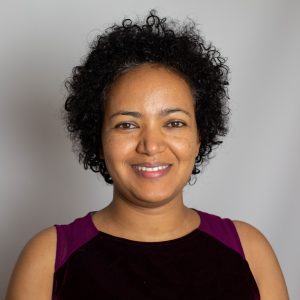 Rahel Diro
Senior Staff Associate II
Financial Instruments Sector Team
Email: ude.aibmuloc.iri

null

@dlr
Address:202B Monell Building
61 Route 9W
Palisades, NY 10964
Background
Rahel is a Senior Research Associate studying the interrelated issues of climate risk, agriculture and food security. Her work focuses on the integration of risk models with qualitative knowledge of farmer needs and perceptions to develop insurance and forecast based financial products that enhance farmer resilience to climate change impacts. Rahel has supported the launch and scaling of weather insurance programs in several African countries
Prior to joining IRI, Rahel Diro worked at Oxfam America where she implemented the Horn of Africa Risk Transfer for Adaptation (HARITA) program that applies a holistic risk management approach to build the climate change resiliency of vulnerable rural communities. Through this experience, she has developed in-depth expertise in interrelated issues of access to financial services and climate risk management in agriculture. She has spoken on these topics at various conferences including at the UNFCC's COP.
Rahel completed her Bachelor's in Agribusiness Management from Haramaya University in Ethiopia where she later served as a faculty member in the Agricultural Economics department. She also holds a joint MSc. degree in Rural Development from Ghent and Humboldt Universities, and MPA in Economic Policy from Columbia University's School of International and Public Affairs (SIPA).
Role at IRI
Rahel manages a portfolio of climate risk management projects, focusing on index insurance and forecast based financing. She performs research analysis, project design and implementation. Using research and site-specific knowledge, she ensures project operations and research activities are effectively aligned. Rahel works closely with stakeholders and bridges knowledge gaps through workshops and capacity-building training.