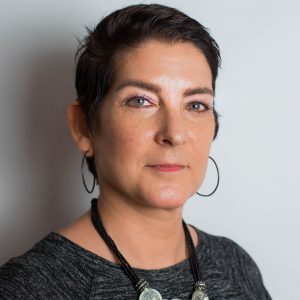 Lisa Goddard
Senior Research Scientist
Phone: +1 (845) 680-4430
Email: ude.aibmuloc.iri

null

@draddog
Address:Monell 128
Short Bio
Lisa Goddard served as the director of the International Research Institute for Climate and Society from 2012-2020. She is currently an IRI Senior Research Scientist and leads the institute's research efforts on understanding and predicting climate change on the 10-20 year horizon. She is also an adjunct associate professor in Columbia's Department of Earth and Environmental Sciences. Dr. Goddard is a globally recognized expert on El Niño and La Niña, decadal prediction and near-term climate change. She sits on the Board on Atmospheric Sciences and Climate of the U.S. National Academies of Science, as well as four others. She also co-chairs CLIVAR, which advises and coordinates international research on climate and the oceans under the World Climate Research Programme. In 2007, she developed PACE, a national post-doctoral program that explicitly links recent climate Ph.D.s with decision making institutions.
Background
Lisa Goddard is an IRI Senior Research Scientist and an adjunct associate professor within the Department of Earth and Environmental Sciences of Columbia University. She was IRI's director from 2012-2020. Goddard has been involved in El Nino and climate forecasting research and operations since the mid 1990s. She has extensive experience in forecasting methodology and has published papers on El Nino, seasonal climate forecasting and verification, and probabilistic climate change projections. Currently leading the IRI's effort on near-term climate change, Goddard oversees research and product development aimed at providing climate information at the 10-20 year horizon and how that low frequency variability and change interacts with the probabilistic risks and benefits of seasonal-to-interannual variability. Most of Goddard's research focuses on diagnosing and extracting meaningful information from climate models and available observations. She also developed and oversees a new national post-doctoral program, the Post-docs Applying Climate Expertise Program (PACE), which explicitly links recent climate PhDs with decision making institutions. In addition, she sits on five scientific advisory panels and co-chairs two working groups.
Goddard holds a PhD in atmospheric and oceanic sciences from Princeton University and a BA in physics from the University of California at Berkeley.
Research Interests
Goddard pursues several lines of research aimed at improving the quality and content of climate predictions. This goal is approached with a focus on climate diagnostics and predictability. Research areas include
Near-term climate change,
El Nino/La Nina and their impact on climate variability and predictability,
Methodologies for identifying the relative importance of regional SSTs to regional climate variability,
Assessment of climate prediction tools, and
Strategies for advancing research, development and implementation of climate forecasts.
Goddard also contributes to the real time production of IRI's ENSO outlook and seasonal climate forecasts.