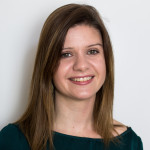 Helen Greatrex
Associate Research Scientist
Index insurance (CCAFS and the Financial Instruments Sector Team)
Email: ude.aibmuloc.iri

null

@xertaerg
Address:UK-based, otherwise at Monell
Background
Helen Greatrex is an interdisciplinary scientist with a focus on agro-meteorology and decision-making. The underlying topic of her research is rainfall, studied in terms of understanding its meteorological and statistical properties, researching measurement techniques (both remote sensing and historical weather analysis) and exploring how and why people use rainfall information in their own complex narratives. Her research is underpinned by several underlying themes including exploring uncertainty, tool development and stakeholder communication, particularly looking through the lens of weather based index insurance in sub-Saharan Africa.
Helen has a PhD in African seasonal crop forecasting from the University of Reading; a post-graduate diploma in Atmosphere, Ocean, and Climate and an MPhys in Astrophysics. She has a technical background in satellite rainfall analysis, using Monte Carlo geo-statistical approaches to quantify uncertainty, and examining how that uncertainty propagates through into end-user applications.
Role at IRI
Helen works as an Associate Research Scientist within IRI's Financial Instruments Sector Team. She is also an CCAFS activity leader on the following projects:
CASCAID (Capacitating African Smallholders with Climate Advisories and Insurance Development – with the University of Ghana and ICRISAT )
Helen runs the CASCAID theme on insurance development, which aims to support the scaling of existing insurance programmes in Ghana and Senegal through:
Assessing how different sources of information might be used in insurance design and evaluation (for example from remote sensing data, crop simulation models, agronomic research, farmer/local expert experience, and ground measurements.
Linking different end-user groups, including commercial and smallholder farmers, academics, satellite experts, insurers, reinsurers, and NGOs. This has involved participatory research, dedicated training sessions and expert working groups.
Developing a qualitative toolkit to assess the need, access and unintended consequences of insurance on women and other disadvantaged groups.
Imagining Insurance Complexly – with CIMMYT
The aim of this project is to fully explore some of the broader attributes and consequences of index insurance. Work includes:
A randomised controlled trial assessment of an operational insurance programme in Nigeria.
Exploring definitions of success and attributes of scaling for index insurance.
Working at a policy level within the insurance community.
Researching the impact of insurance on social equity.
Exploring the differences in language between different groups