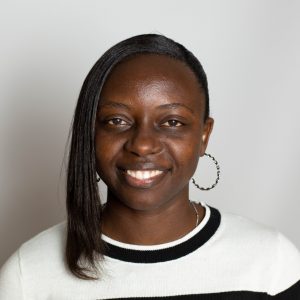 Gloriose Nsengiyumva
Staff Associate
ENACTS
Email: ude.aibmuloc.iri

null

@esoirolg
Address:133 Monell
Lamont Campus
61 Route 9W
Palisades, NY 10964
Background
Gloriose is a climate adaptation practitioner currently focused on climate services for agriculture. Gloriose has been providing skills and technical support on adaptation and risk management in a varying/changing climate in vulnerable areas. Among skills and technical support that she provides include trainings on climate services application in agriculture sector using participatory approaches such as the Participatory Integrated Climate Services for Agriculture (PICSA) approach.
Gloriose works on the ENACTS (Enhancing National Climate Services) initiative of IRI, where she coordinates and delivers current and new ENACTS climate services for decision-making research. ENACTS allows national met services to create reliable climate data, information and products, usable and useful for sectoral decision making.
She also leads the creation, development and implementation of training guides for ENACTS maproom and she is involved in curricula development for other climate services programs at the IRI.
Research interests
Climate services research
ENACTS (Enhancing National Climate Services)
Climate services application especially in agriculture sector
Climate adaptation and risk management