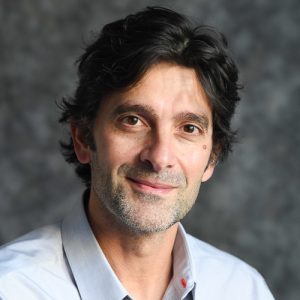 Francesco Fiondella
Director of Communications
Office of the Director
Phone: office: +1 (845) 680-4476
mobile: +1 (646) 321-2271
Email: ude.aibmuloc.iri

null

@ocsecnarf
Address:125 Monell
61 Route 9W
Palisades, New York 10964
Francesco Fiondella (he/him) manages IRI's communications team and oversees the institute's strategic communications and media relations.
Fiondella has worked as a science communicator for more than 15 years, using his writing and photography to convey how some of the world's most vulnerable people struggle with the realities of climate, and what scientists are doing about it. He shared some thoughts about climate communication here.
He currently leads two projects supported by Magic Grants from the Brown Institute for Media Innovation: Data, Interrupted and the Climate Data Concierge Service for Journalists.
Fiondella also teaches science communication in Columbia's Undergraduate Program in Sustainable Development and serves on the advisory board of Planet Forward, an organization dedicated to training the next generation of science storytellers.
He is especially interested in ways to bring science into the public sphere through collaborations with artists, photographers and other cultural messengers. In 2016, he worked with painter Michelle Rogers to organize IRI's first visiting artist. He has served as a judge and panelist on "Concorso Cambiamenti Climatici – The Grand Challenge" an international climate-art contest organized by the University of Venice.
Fiondella is also the co-creator of the 2014 Climate Models, a crowdfunded project that turned climate scientists into fashion models as a way to spark public engagement and interest in science. In 2014, he helped build a partnership among the International Center of Photography, IRI and the Lamont-Doherty Earth Observatory to bring climate scientists into ICP's gallery space to lead public tours and give presentations about their work. He also spoke about the important role photographers play in communicating science.
Before joining Columbia, Fiondella worked at The Wall Street Journal as an information graphics editor and staff writer.
He holds masters degrees from Columbia's Graduate School of Journalism and the Graduate School of Arts and Sciences, and an undergraduate degree in environmental science from Brown University.
Follow him on twitter via @fiondella and @climatesociety. His photography portfolio is here. You can find out more about him on francescofiondella.com.