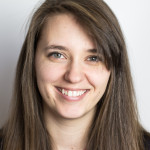 Elisabeth Gawthrop
Communications Officer
Phone: +1 (845) 680-4470
Email: ude.aibmuloc.iri

null

@porhtwag
Address:132 Monell
61 Route 9W
Palisades, New York 10964
Elisabeth Gawthrop communicates the work of the IRI by writing web stories, shooting photo and video, producing multimedia projects and managing social media accounts. She conducts trainings on science communication and works with scientists to strategically align project goals and communications goals. She also helps teams with the design and editing of reports, posters, and other materials.
Gawthrop holds masters degrees in science and journalism from Columbia University, as well as a bachelor of science degree in environmental science from Indiana University. Between undergraduate and graduate school she was the projects coordinator for Indiana University's Office of Sustainability. As a master's student in the Climate and Society program, she completed an internship with NASA and IRI researching the connection between climate and meningitis in sub-Saharan Africa, and she served as a teaching assistant for an undergraduate climate science lab. At Columbia's Graduate School of Journalism, she was a Stabile Fellow in Investigative Journalism. She especially enjoyed her classes in computational journalism and is exploring ways to improve IRI's communications using data science.
Follow her on Twitter via @egawthrop and @climatesociety + more details on her website.