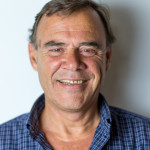 Walter Baethgen
Senior Research Scientist
Head of Regional and Sectoral Research
Phone: +1 (845) 680-4459
Email: ude.aibmuloc.iri

null

@neghteab
Address:124 Monell
61 Route 9W
Palisades, New York 10964
Background
Walter E. Baethgen is head of the Regional and Sectorial Research Program and leader of the Latin America and the Caribbean program in the IRI at the Earth Institute, Columbia University. At the IRI he has been establishing regional research programs that aim to improve climate risk assessment and risk management in agriculture, health, water resources, and natural ecosystems. Between August 2010 and April 2012, Baethgen acted as Distinguished Lead Scholar of the NEXUS program of the Fulbright Foundation, which aims to inform the elaboration of policy with scientific research. Before joining the IRI, Baethgen was a senior scientist in the Research and Development Division of IFDC, where he worked mainly in Information and Decision Support Systems for the Agricultural Sector (1987-2003). In that role he established and coordinated regional research programs in Latin America in collaboration with national and international organizations.
Baethgen has acted as a consultant for the Inter-American Development Bank, UNDP, UNIDO, FAO, the IAEA, The World Bank and IICA. He also acted as consultant for the governments of Brazil, Chile, Paraguay, Guatemala and Uruguay, and for the private sector in Argentina, Uruguay, and Venezuela. He was a lead author for IPCC's Second (1995) and Third (2001) Assessments Reports and contributing author for the Fourth Assessment (2007), as well as the review editor for the IPCC special issue, Methodological and Technological Issues in Technology Transfer (2000). He serves or has served as a member of scientific advisory committees of several international organizations including the CGIAR Science Council, IAI, CIIFEN, VAMOS-WCRP, IGBP, and WMO. Baethgen is an editorial board member of the peer-reviewed journals Agricultural Systems (Elsevier Science) and Journal of the International Hydrological Programme (UNESCO), and a regular reviewer for scientific journals of USA, Europe, and Latin America.
In 2010 Baethgen received the Morosoli de Oro award, considered one of the highest recognitions of contribution to Uruguayan culture. He obtained his PhD and MS degrees in crop and soil environmental sciences from Virginia Polytechnic Institute and State University, and his BS in agricultural engineering from he University of Uruguay. He has more than 150 publications to his credit.