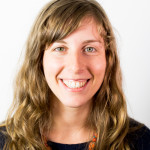 Samantha Garvin
Senior Research Staff Assistant
Climate Services Partnership
Phone: +1 (845) 680-4503
Email: ude.aibmuloc.iri

null

@nivrags
Address:133C Monell
Background
Samantha Garvin studied environmental science and dance at Barnard College and graduated with a BA in May of 2012. There, she conducted research in urban ecology, looking at the local function of parks as habitat for New York's wildlife.
Research Interests
Garvin is interested in the process of translating science research into useful and practical tools in the field for the general public. She is also interested in the connections of climate change to international development, food security, and natural resource management.
Role at the IRI
As a senior research staff assistant, Garvin facilitates research for the Climate Services Partnership as well as for the Financial Instruments Sector Team. Not only does she support the work of both entities, but she also serves as the liaison between the two, enabling synergies in climate and financial services.