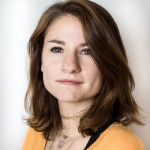 Margot Le Guen
Senior Research Staff Assistant
Phone: +1 (845) 680-4510
Email: ude.aibmuloc.iri

null

@neugelm
Address:113 Monell
Background
Margot Le Guen graduated in 2013 from Columbia University with a master's degree in climate and society, a multidisciplinary program linking climate science and impacts on livelihoods. She also holds a master's degree in international affairs and a bachelor's degree in political science from Sciences Po Paris, France. Le Guen has worked in public relations for energy industry businesses in Europe, and she founded an international student think tank on climate policy, CliMates, in 2011.
Research Interest
Le Guen is interested in how financial mechanisms and market-based approaches can help mitigate the risks related to climate variability and change and also be a lever to economic development.
Role at the IRI
Le Guen is a senior research staff assistant in the Financial Instrument Sector Team at IRI. She participates in the development and dissemination of climate risk management and capacity building materials to build resilience to climate variability and change. She also assures the liaison with international project partners, especially from West Africa and French-speaking countries.