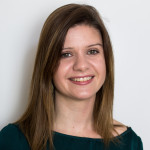 Helen Greatrex
Postdoctoral Research Scientist
Index insurance (CCAFS and the Financial Instruments Sector Team)
Email: ude.aibmuloc.iri

null

@xertaerg
Address:UK-based, otherwise at Monell
Background
Helen Greatrex is a research scientist with a background in agro-metorology and in decision making under climate uncertainty. She has a PhD in seasonal crop forecasting for Ethiopia from the University of Reading; a post-graduate diploma in atmosphere, ocean, and climate from the University of Reading; and an MPhys in astrophysics from the University of Manchester.
Greatrex has worked closely with policy makers, NGOs, businesses, and other scientists, particularly in Africa, and enjoys bridging the gaps between the different groups.
Previous work included:
Interpreting historical weather observations (either using geostatistics or more simple methods)
Satellite rainfall estimation (TAMSAT)
Using impacts models (e.g., crop simulation models)
Interpreting future climate change information from models and literature
Creating and using remotely-sensed rainfall estimates
Working on the practical uses of climate data, (e.g. within index insurance)
Working on national adaptation strategies
Writing climate guides for non-scientists
Software design for historical weather analysis and kriging, particularly in R
Designing and teaching training courses, in particular those on basic climate science, impacts, or on the use of climate data
Role at IRI and Research Interests
The aim of Greatrex's work is to research index insurance for developing countries, particularly how different sources of information might be used in insurance design and evaluation (for example from remote sensing data, model outputs, farmer/local expert experience, and ground measurements). In addition, she has an operational role within the index insurance work of the Financial Instruments Sector Team.
Greatrex will also be forming links between IRI and UK research institutions, particularly the TAMSAT research group, and splitting her time between the UK, New York, and project sites.
Useful links
The CGIAR Research Program on Climate Change, Agriculture and Food Security
The TAMSAT research group (Satellite rainfall estimates for Africa)
The Financial Instruments Sector Team (Index Insurance)