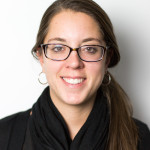 Catherine Pomposi
Graduate Research Fellow
Climate Sciences
Email: ude.aibmuloc.oedl

null

@isopmopc
Address:Monell 143
61 Route 9W
Palisades, NY 10964
Background
Catherine Pomposi is a Graduate Research Fellow in climate sciences at IRI and a PhD student in the Columbia University Department of Earth and Environmental Sciences (DEES). Her interests in environmental and particularly climate science inspired her to develop an individualized major at the University of Connecticut, where she graduated in 2010 magna cum laude with a BS in both environmental analysis (individualized) and statistics. Throughout her undergraduate years, she worked as an intern in UConn's Office of Environmental Policy and served as an officer of the EcoHusky Student Group, roles which provided an opportunity to work to address sustainability issues both on campus and more broadly throughout the community. Upon completing her undergraduate study, Pomposi pursued her interests in education and taught in a local middle school before enrolling in the DEES program as an NSF Graduate Research Fellow. She also holds an MA in Earth and Environmental Sciences from Columbia University.
Research Interests
Seasonal-to-decadal variability of the West African Monsoon
Regional climate variability, predictability, and change
Climate services and food security
Science education and outreach
Role at the IRI
Pomposi's work at the IRI is related to understanding the mechanisms of West African Monsoon variability on seasonal to decadal timescales. She was awarded an NSF GROW and USAID Research and Innovations Fellowship, which sponsored travel to Dakar, Senegal to work on improving seasonal forecasting of the monsoon and communicating the forecast to farmers in the area with an IRI-Alum, Dr. Ousmane Ndiaye. She continues to study the mechanisms for monsoonal variability in the region with the hope that findings can be applied so that the local population can better use climate information for resilience against projected climate changes.