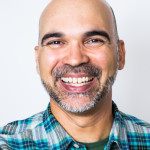 Ángel Muñoz
Part time Postdoctoral Research Scientist, IRI
Postdoctoral Research Scientist, Program in Atmospheric and Oceanic Sciences, Princeton University
Email: ude.aibmuloc.iri

null

@zonumga
Address:Monell 121
Background
Ángel G. Muñoz has a PhD in climate sciences (Columbia University, Department of Earth and Environmental Sciences - DEES). After graduating from the Universidad del Zulia with a BS in physics, Muñoz pursued an MS in fundamental physics (numerical general relativity) in Universidad de Los Andes. He holds a MA and a MPhil from DEES, with research focusing on climate extreme events, predictability and cross-timescale interference. Before arriving at the IRI in 2011, he was associate professor in the Department of Physics of Universidad del Zulia, and acted as deputy director and then coordinator of the Geosciences Area at the Center for Scientific Modeling (CMC), in Venezuela. At the CMC he helped create the Latin American Observatory, a regional partnership aimed at improving regional capacities and networking to provide useful, climate-smart products for decision-makers in Latin American countries. The Observatory offered him the opportunity to work directly with decision-makers on different projects for the Interamerican Development Bank; the United Nations; the World Bank; Comunidad Andina de Naciones; the Environmental Ministry of Ecuador; and the national weather services of Ecuador, Peru, Colombia, Bolivia, Chile, and Panama.
Muñoz's research interests include
sub-seasonal-to-decadal (s2d) extreme events
cross-timescale interference
regional climate variability, predictability, and change
lightning in North Western South America (Catatumbo Lightnings)
computational modeling, and climate downscaling methodologies
forecast methodologies
climate risk quantification and management
climate services.
Role at the IRI
Muñoz's work at the IRI is related to the study of climate extreme events (precipitation and temperature) in southeastern South America and the provision of very high resolution model outputs (WRF, 20 and 2 km) to inform decision-makers in agriculture (NSF Project "Multi-scale Climate Information for Agricultural Planning in Southeastern South America for Coming Decades," AGS 1049066). He also works on the study of climate extreme events in the Caribbean Basin (NOAA-USAID Project "Integrating Climate Information and Decision Processes for Regional Climate Resilience") and he explores ways to improve the use of climate information in risk management, particularly in relation to stresses on food production, water resources, and coastal hazards.
Publications
Available on ResearchGate