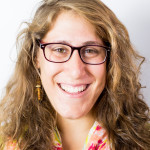 Allyza Lustig
Senior Research Staff Assistant
Climate Services Partnership
Phone: +1 (845) 680-4503
Email: ude.aibmuloc.iri

null

@gitsulra
Address:Monell 133C
Background
Background
Allyza Lustig holds a BA in environmental policy from Barnard College, Columbia University, where she completed her senior thesis, "Perceiving Climate Change and Variability: Water Resource Management and Community Adaptation in the Agricultural Sector of the Elqui River Valley, Chile." This work combines her interests in water resources management, environmental justice, and Latin America.
Prior to joining the IRI, Lustig worked with the Earth Institute's Center for Research on Environmental Decisions, where she continued her thesis work and joined a research team focused on glacier-dependent communities and climate change perception.
Role at the IRI
Lustig joined the IRI in 2012 as a senior research staff assistant with the Climate Services Partnership. In this role, she orchestrates the CSP Web site, interactive map, and newsletter. She also edited and helped to facilitate the growth of the Partnership's case study collection.
In addition to her work with the CSP, Lustig contributes to activities in Latin America, including a climate and water management course in the Caribbean, and a climate and health course taught in Ecuador.